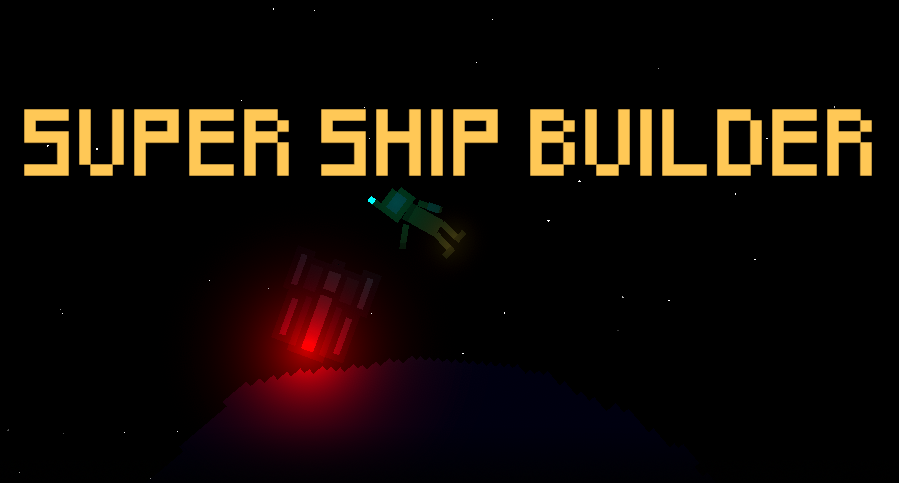 Super Ship Builder
Did you ever wanna build a space ship? In space? As a ragdoll? While raging?


In Space Ship Builder your job is simple: build a space ship to explore asteroids a find more parts to build a bigger space ship to find more asteroids! Of course, things aren't always that easy for those who, incidentally, are ragdolls.
Controls:
Use the mouse and left click to move your silly little ragdoll-self around!
Right-click to detach an attached module.
W for ship thrust, A and D for rotation.
Hold R and hover your mouse over a module to rotate it.
Press T to restart.
How to play:

Move with the mouse, the bar at the bottom of the screen is your ragdolls fuel! Don't let it go to zero (recharge it by placing your head firmly against any asteroids)
Push parts onto your helm (the glowy blue thing) to attach them!

Press space while near the helm to enter the ship, press again to exit (make sure you don't block yer door, cause I'll laugh at you)
Follow the orange arrows to find asteroids (that have more parts on them, five in total)

To target a new asteroids land your ship and exit for at least 5 seconds.
There are 5 asteroids with progressively cooler items on em!
Created for UDC 11
Only WebGL 2.0 is supported, make sure your browser is up to date!

Web build might have some audio issues, download to fix!

Download
Click download now to get access to the following files:
Super Ship Builder.zip
19 MB
Super Ship Builder Mac.zip
23 MB
Comments
Log in with itch.io to leave a comment.
This is really fun! The ship building mechanic is quite engaging. Excellent work!
After 30 minutes to an hour of playtime I figured out that T restarts the game. The game is very fun but I am now depressed since I lost my beautiful ship with B class thrusters. The game is fun, ever so slightly addicting, and sometimes annoying, though that's how its supposed to be. I'd say it's a 9/10 since one of the only flaws I found was the camera being a bit stupid and being able to exit the ship into the ground. Other than that the game is great.
Alone in space.
Haha, really nice work for real.
No. Just No. everything about this, is No.
I had never played a ragdoll style game, and this one infuriated me for the first five minutes. Eventually I realized that I could line my ship up to fly into objects, and then eject myself from the ship just before contact. Parts would "weld" to the ship if I wasn't in it. Suddenly, an hour has gone by and I'm still trying to build an epic ship. I really enjoyed this game.
Critiques: I could have used some additional indicators (maybe multiple color-coded arrows), to navigate back and forth between asteroids. Also, a method to close the game would be good. Having to alt+tab and force close feels rough.
Thanks for the kind words! Don't worry the post-jam version will have a lot more polish and things to do :)